How elders can benefit from regular reading
Article by Stacie Hart, Human Resources
Contrary to popular belief, cognitive decline as we age is not inevitable.  While it's true that it's fairly common in U.S. adults over age 70 (approximately 66%), research has shown a number of benefits of reading in our later years.  Making reading a part of elders' routines can significantly increase their memories, enhance episodic recall, improve general fluency, accelerate cognitive awareness, reduce stress, improve sleep, sharpen decision-making skills, and even increase life expectancy!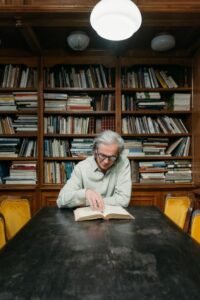 While all reading is beneficial for seniors, studies have shown that book reading contributes to a significantly greater survival advantage over that of reading magazines and newspapers.  In one in-depth study of 3,635 participants conducted by Oxford University Press' Innovation in Aging, book-readers experienced a 20% reduction in risk of mortality over a 12-year follow-up period.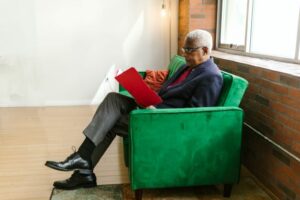 Seniors who enjoy reading and make it a habit of visiting the local library reap additional benefits!  Among those are social opportunities (e.g. book clubs and reading groups, access to computers and digital literacy programs, intergenerational and volunteer opportunities), all in a safe, clean, comfortable, inviting setting.  In addition, elders can benefit from additional recreational and entertainment activities in libraries, such as classes and workshops, games and puzzles, movement-based programs (e.g. Tai Chi), art exhibitions, concerts, movie nights, and other fun events.  Besides the books themselves, libraries offer other educational resources, such as classes, retirement planning sessions, educational lectures and presentations, and civic/social services (e.g. legal advice, notary service, senior resource referrals).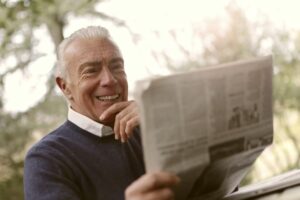 Another, perhaps surprising, benefit of reading for seniors is increased empathy, particularly as a result of reading stories of others' lives, such as first-person fiction, biographies, and autobiographies.  Additional studies have shown reductions in stress and general anxiety, improved focus, and even a delay in the onset of dementia!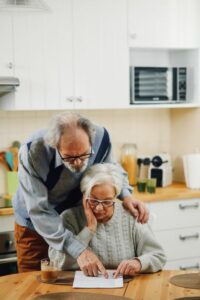 How can you help the seniors you care about and care for to become avid readers?  Here are some suggestions.
Provide large-print books.
Gift an e-reader with a built-in light and adjustable font sizes.
Suggest audiobooks, if you suspect your elder is avoiding reading because of a need to accomplish other things –now, they can multitask!
Give a magnifying tool or a book light.
Locate and supply books targeted at seniors or special-interest stories your elder may prefer reading about.
Research book clubs and suggest specific ones for your senior to consider joining.
Help your elder get a library card, if s/he doesn't have one already!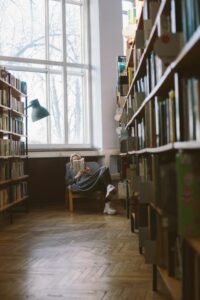 SOURCES
Sommerer, Deidre, 2022.  What You Need To Know About The Benefits of Reading and Libraries for Seniors.  Seniorhousingnet SENIOR CARE RESOURCES.
Bavishi, A; Slade, M; and Levy, B, 2017.  THE SURVIVAL ADVANTAGE OF READING BOOKS.  National Library of Medicine.
Huang, Eddie, 2021.  Five Proven Benefits of Reading for Seniors.  MagniPros News.
Looking for your next caregiving gig?  Take a look at Triad Home Health Services' current job openings!  At Triad, our employees are #1!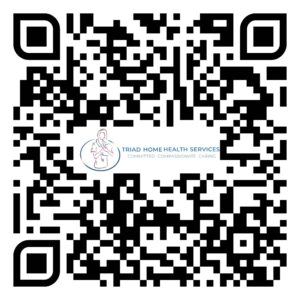 #nextgig #agenciesforhomehealthcare #athomecareforseniors #athomehealthcareservices #athomenursecare #DCP #careinhome #caringhome #caringnurses #healthcareinhome #healthcareservices #homecare #diabetescare #homecareservice #homecaregiver #homehealth #homehealthagencies #homehealthcarecolumbusohio #studentnurse #homehealthnurse #homeincare #homenursing #nowhiring #parttime #fulltime #perdiem #ohiohealthhomecare #seniorcareservices #servicesathome #skillednurse #inhomecare #domiciliarycare #nursing student #aginginplace #remainhome #stayinhome #ADLs #disability #independentliving #eldervillage #carers #seniorcare #adultdaycare #directsupportprofessional #DSP #lowercost #bettercare #increasedsatisfaction #supportingfamilies #TPW #therapeutic #eldercare #developmentallydisabled