OCTOBER is Breast Cancer Awareness Month
Breast Cancer can strike men as well as women.
Article by Stacie Hart, Human Resources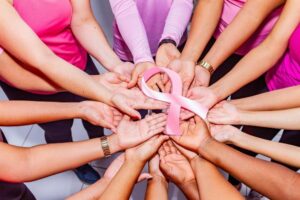 By now, virtually all of us have come to associate That Little Pink Ribbon with Breast Cancer Awareness Month.
The movement began with the support and assistance of Betty Ford, a survivor of breast cancer during her husband's presidency in the mid-1970s.  By 1985, the American Cancer Society had teamed up with a large pharmaceutical entity, joined by Mrs. Ford, to kick off a week-long event aimed at increasing awareness of the disease.  What followed, and still exists today, is the annual celebration of breast cancer survivors, wherein they are encouraged to share their stories and promote regular mammograms.  In 1992, Estee Lauder Cosmetics utilized the pink ribbon in the first nationwide campaign to establish the ribbon as a visual reminder of Breast Cancer Awareness Month.
While the vast majority of breast cancer victims are female, men can also be stricken.  Every year in the U.S., approximately 264,000 cases of breast cancer are diagnosed in women, and about 2,400 in men.  Of these, approximately 42,000 female cases are ultimately fatal, while about 500 males do not survive the disease.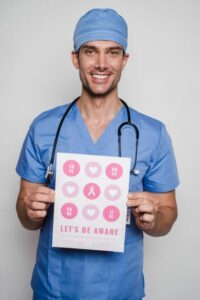 Warning signs, while they may include a breast lump, can vary in both females and males. There may be nipple bleeding or discharge, lump in the armpit, pain, redness, swelling, caving inward of the nipple area, irritation/itch, change in color, size or shape, peeling or flaking of nipple skin, or pitting of the skin (similar to the rind of an orange).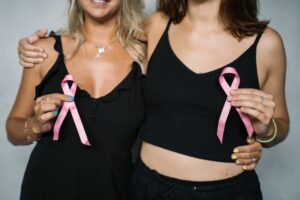 Some good news:  breast cancer screening has improved over the years, and is continuing to increase in accuracy.  As well, many patients find there are ways to minimize discomfort during the procedure.
Please review the latest (2022) Breast Cancer Screening Guidelines HERE.
SOURCES
Uncited author, 2019.  A Brief History of Breast Cancer Awareness Month.  BrevardHEALTH Alliance.
Uncited author, 2019.  What's the difference?  Male breast cancer and female breast cancer.  Cancer Center Treatment Centers of America blog.
Uncited author, 2020.  Improvements in breast cancer screening.  U.S. Department of Health & Human Services, Office on Women's Health (OASH).
Uncited author, 2019.  What to expect during a mammogram.  Medical News Today.
Uncited author, 2022.  Basic Information About Breast Cancer.  Centers for Disease Control and Prevention.
Follow us on Facebook, Instagram, LinkedIn, Pinterest, and YouTube!
#jobsincolumbus #homehealthnursing #abouthomehealthcare #tophomehealthcareincolumbusohio #triadcolumbusohio #directcare #medicaidcertifiedhomehealthagency #homehealthcolumbus #student nurse #ohioseniorhomehealthcarecolumbusoh #TPW #homehealthqualifications #eldercare #DSP #nowhiring #parttime #fulltime #perdiem #whattoknowabouthomehealthcare #developmentalcenter #inhomecareeligibility #howtogetinhomecare #inhomenursing #supplementincome #homecareandhospice #homehealthcareindustrystatistics #medicaid #nursing student #medicare #senioroptions #DCP #therapeutic #inhomenursingcareforelderly #adulthomhealthcare #seniorcenters #agenciesforhomehealthcare #athomecareforseniors #athomehealthcareservices