THE REWARDS OF CAREGIVING
HELPING OTHERS:  A KEY TO PERSONAL FULFILLMENT
Article by:  Stacie Hart, Human Resources/Recruitment Analyst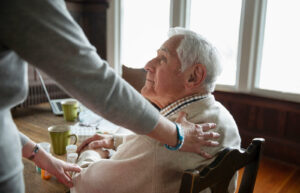 Science compels us to recognize that it is truly "better to give than to receive."  In studying brain technology, scientists have learned that giving activates the same pleasure centers in the brain as those stimulated by, say, enjoying a tasty meal.
While caring for another individual can be taxing at times, it can also be extremely rewarding.  Research on caregiving had traditionally focused on the person receiving the care; however, more-recent findings indicate that providing support in a caregiving role also benefits the giver.  This benefit is particularly pronounced where the care being given is by choice (such as when one chooses to do this type of work as employment), rather than out of necessity (such as the obligation of taking care of a loved one).  Even among animals, science has found that caretaking activities, such as grooming one another, can be linked to decreased stress and anxiety levels.
Career caregivers cite their work as mutually beneficial, affording a sense of accomplishment, a feeling of increasing cared-for individuals' trust in the world and the people in it, and add that they feel genuine thankfulness from those individuals.  They cite joy in knowing they are improving someone's life and circumstances on a regular basis, which gives a feeling of reward and personal fulfillment, even increased affirmation of their lives' purpose.  One such caregiver, Danielle G. from Pennsylvania, states that "working in the helping field is rewarding because it gives you a front row seat on a person's abilities and desires to grow and learn."
Treating others with kindness, as within the caregiver/individual relationship, can make us feel like we're making a difference, increase our self-esteem, and foster a positive sense of responsibility.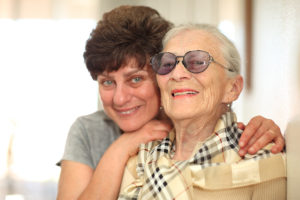 TRIAD CAREGIVERS – WE SALUTE YOU FOR CHOOSING EMPLOYMENT IN A HELPING FIELD, AND FOR YOUR PROFESSIONAL AND CARING SERVICE TO OUR VALUED CLIENTS!
SOURCES
Santi, Jenny, 2022.  The Secret to Happiness Is Helping Others.  TIME.
Uncited Author, 2017.  Caring for Others Can Bring Benefits.  ASSOCIATION FOR PSYCHOLOGICAL SCIENCE.
Uncited Author, 2018.  6 Reasons Why a Career Helping Others is Rewarding.  Fellowship Health Resources.
Nargi, Lela, 2020.  Being kind to others has rewards for you.  The Washington Post.